Hristo Stoychev Denev
owns the following qualifications: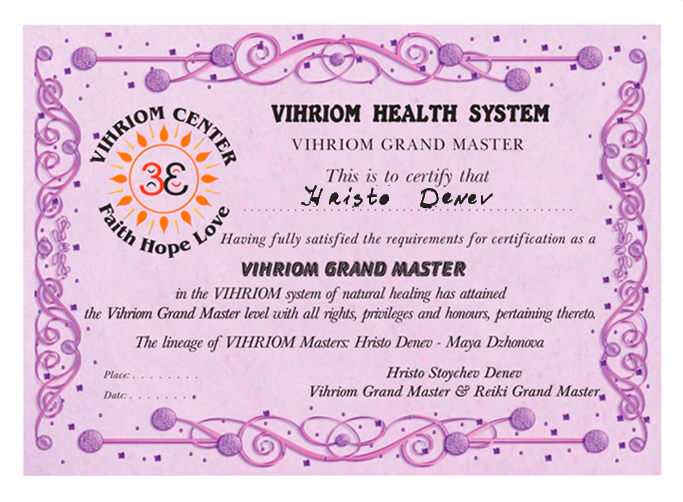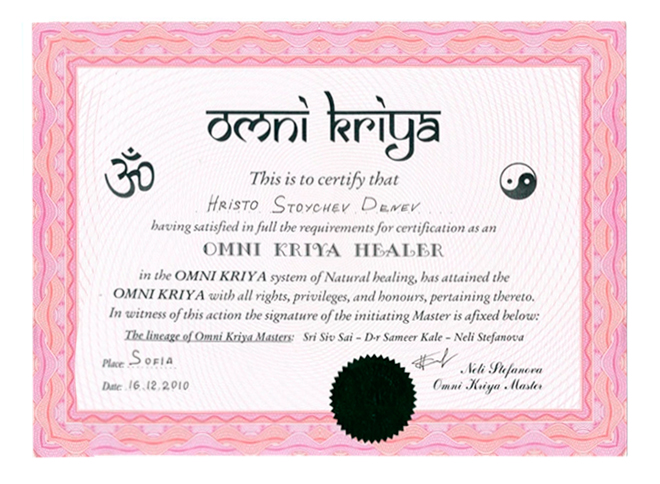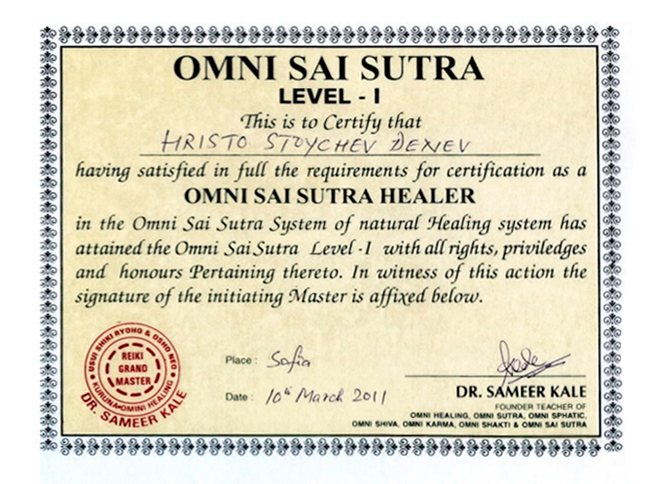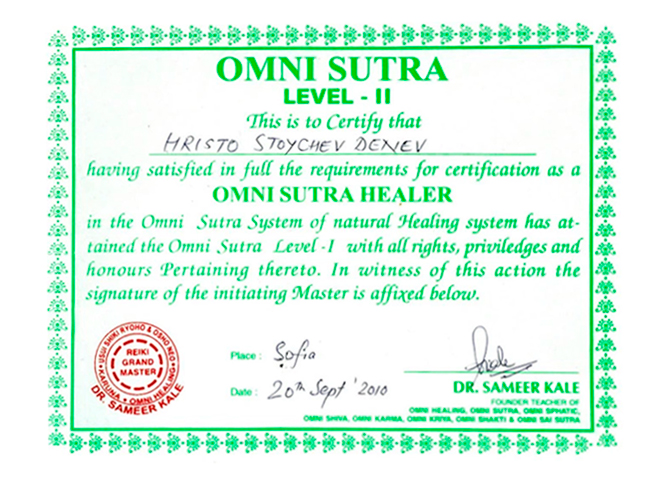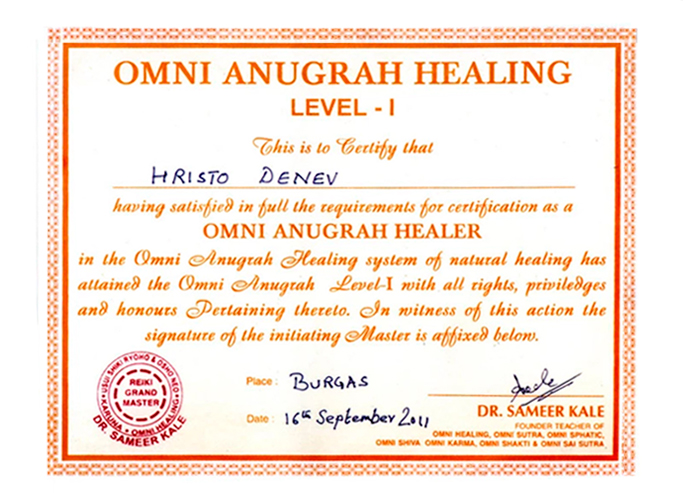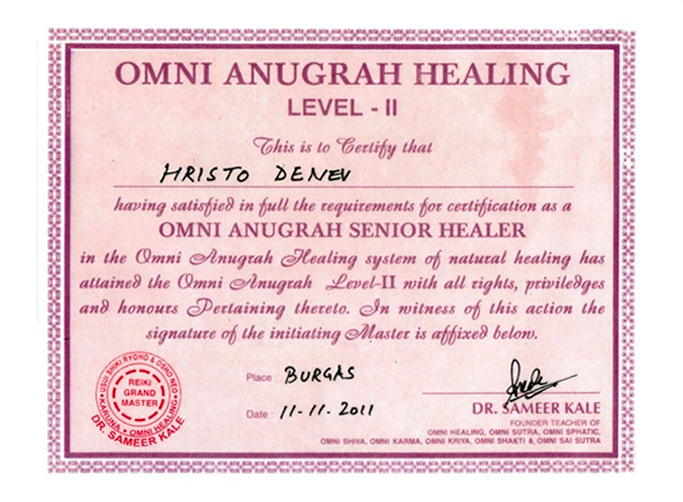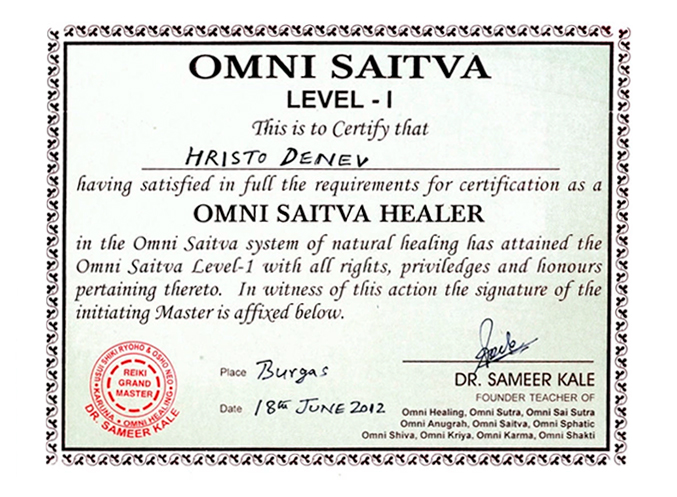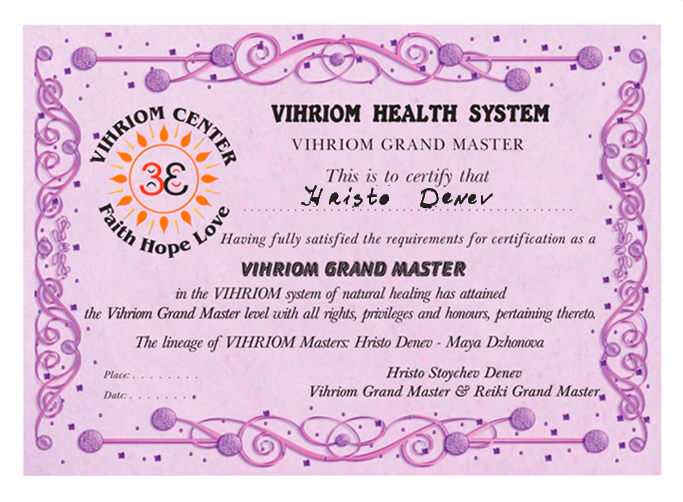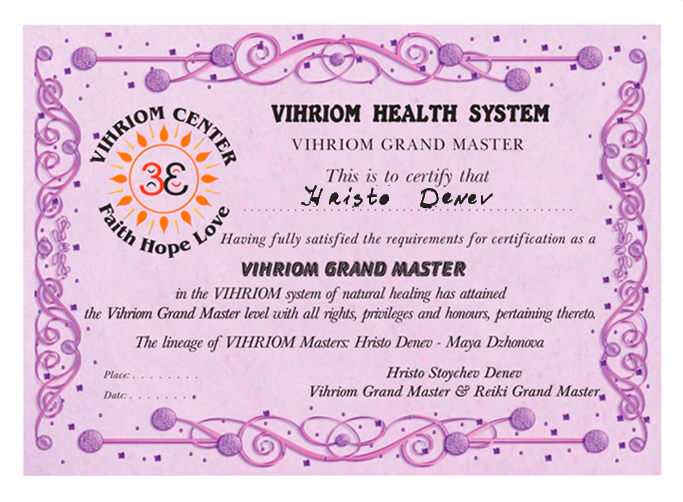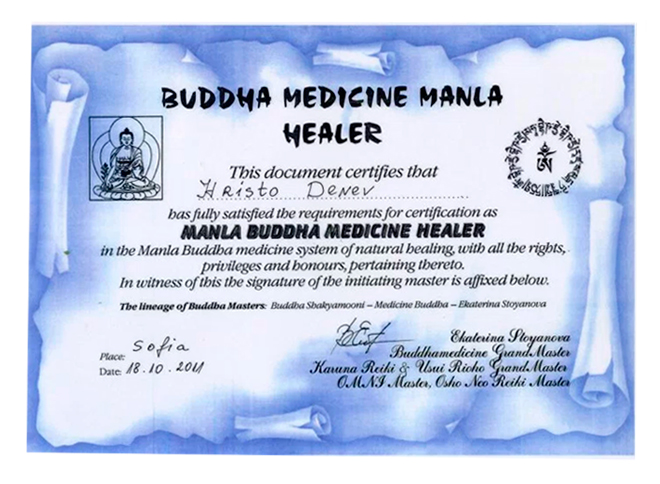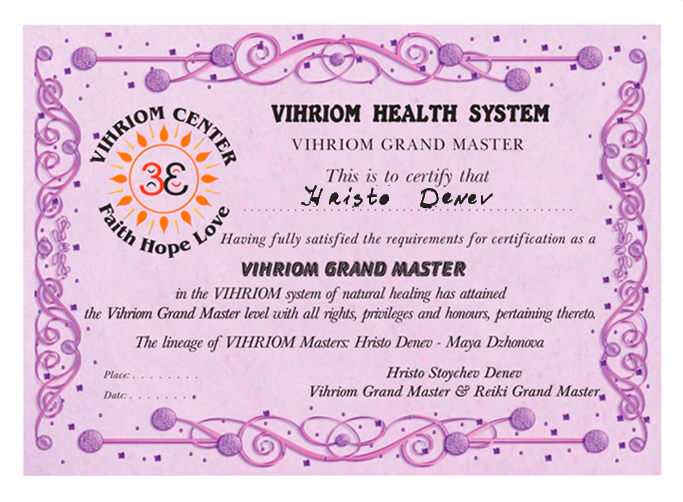 My path to Reiki
short stories with people whom I succeed helping
Extract of the book of Dr. Sameer Kale "The system for natural healing OMNI":
I'll start with my personal story and my first encounter with Reiki….
On September 10, 2008, in Florida, I was in a car accident. As a consequence, I couldn't move my head. After three months of intensive treatment in an institute specialized in these types of trauma, my ability to move was restored by about 30%. An acquaintance of mine, a doctor who practiced manual therapy, suggested that I undergo a few Reiki sessions with his massage therapist. I asked him what Reiki was and he replied that he didn't know, but it might help if I tried. So I tried. The lady therapist explained to me what Reiki was and said she had Level 2 of Traditional Reiki. Immediately after the first session I felt some improvement. After the sixth session I could move my head freely and painlessly in all directions… My health problem had been resolved!
* * *
This is what followed: I came back to Bulgaria and started over at the job that I had previously been trained to do. But the past was past and something was pulling me forwards. I needed a change. I quit my job in Sofia and decided to follow the path of Reiki. First, I asked some advice from 'Uncle Google'… The search results gave lots of 'Reiki masters' and I couldn't make up my mind and pick one who would suit me. After a few weeks of indecision, inquiries and meetings, I realized I should go to the very source of the Reiki movement in Bulgaria – the Bulgarian Reiki Center. I called the Center and talked to its founder, Ekaterina Stoyanova. I made an appointment and I was approved for Reiki training. I received the First Level. That summer my friend, who lives in Sofia, was struggling to sell his Yamaha 1000 cm 2 motorbike – to no avail. On the day when I received Reiki 1 from Neli Stefanova, my friend sold his motorbike. During my training Neli told me that I had a problem with my left shoulder – there was some residual pain there. I smiled and said that I was healthy and didn't have any problems. One hour later I felt a bad pain in my left shoulder. I said to myself, "But it turned out that Neli was right…"
Looking back, I recalled that in 1980, while doing a judo workout, I had fallen on this shoulder… 20 years had passed, but my physical body still kept that pain stored inside!                                                                                
* * *
One of my relatives for almost a week couldn't get more than 3 hours sleep a night, suffering a lot of pain caused by bilateral plexitis. I gave him a Reiki session. He fell asleep and slept 6 hours uninterrupted. After four sessions his condition had cleared up. In gratitude he paid my fees for Reiki 2 training.
Receiving the Second level of Reiki enabled me to do distance Reiki sessions.
* * *
My friend, who had practiced Yoga for 12 years, decided one day to get a trial Reiki session. She said that she was healthy, didn't smoke, didn't consume alcohol, and was in a good shape. I gave her a session. Next day she called me and said she was bloated and felt some discomfort. So I asked her what kind of problem she had and didn't tell me about. She admitted that her cycle was 14 days, of which the first three days she had to stay in bed because she simply couldn't get up. I gave her two more sessions and everything returned to normal.
* * *
One of my former police colleagues asked me for help: All of her fingernails were coming off. After a month of regular sessions the problem cleared up. Then she brought her brother who was feeling very bad, both physically and psychologically. The flesh on his left arm and left leg were steadily wasting away. The young man, a former athlete, had blood pressure of 190/120 and a pulse rate of 91; 168 cm tall, he weighed 86 kg and smoked 3 packets of cigarettes a day. After 18 sessions over a period of 3 months, his arm and leg regenerated, his blood pressure and pulse returned to the norm (120/80, pulse – 60), and he lost 14 kg. His daily consumption of cigarettes was reduced to 1.5 packets.
* * *
Another case: my relative was admitted to a hospital with biliary duct obstruction. The test results revealed stones in the gallbladder. The doctors advised surgery on the gallbladder, but she refused. She came to me for Reiki sessions. One hour after the fifth session, she went for an ultrasound test. The stones were gone, only some sand showed in the picture. Two days later we had the sixth session and again, one hour after the session she had an ultrasound test which showed that there was no sand anymore.
* * *
I was on holiday at Elena Balkan visiting my friend a radiesthesist. A woman from Sofia was there to whom I gave a session, and she felt very well. Upon her return to Sofia she found her husband in bed, crippled by excruciating pain in his lower back. He was unable to get up and even to move. She called me up and asked me to find a way to come to Sofia to help him. Fortunately, there was a car departing for Sofia in exactly one hour. By the afternoon, I was already at her place. I gave the man a session and the next morning he could get up and move; his pain had been reduced to the medium level. After the second session he could easily bend forward. On the third day he went to work. He introduced me to his colleague from Karlovo who suffered from a trauma suffered while being on a mission abroad. He told me that his wife also had a problem: bad backache and difficulty bending forward. She was at work at the moment of our conversation. We agreed I would contact them later, on Skype, and agree with them about the timing of the distance treatment. That evening, for the first time in my practice, I did a distance Reiki treatment to two people simultaneously. Next evening we repeated the session, and after that they both forgot about their aches and pains.
* * *
Soon I received from Sofia another request for Reiki sessions. A 74-year-old woman, with a bilateral disc hernia, could barely walk. In addition, she suffered from kidney and heart problems: at the age of 36 she had 3 strokes at quick succession, and then, at the age of 37, she had a fourth stroke. Her daughter, a surgeon, said that the woman was allergic to all medicines and therefore could not take any. I gave her three sessions. While I was on my way to give her a fourth session, I ran into her at the entrance to the building: she was walking up the stairs unassisted, all the way to their 4th floor apartment (there was no elevator in their building). She said she felt terrific until this day, but now the pain in her legs and back had returned. I asked what she had been doing, and she admitted that after the third session she felt full of energy, so she went to the market place, bought a big sack of peppers and an electric oven for baking them, carried it all home, and then had been working all day making preserves. After the session she told me that her granddaughter had a bad cough and asked me to give her a session, too. Next day we talked on the phone: the two of them felt great and were very satisfied with the sessions. A year later I visited the woman's niece; from her I learned that the woman was still feeling fine, but her husband passed away. He had lots of health problems, but did not believe in Reiki and refused sessions, despite her attempts to convince him.
* * *
Here is another interesting case: an acquaintance of mine called me on the phone and asked if I had time to receive him because he suffered from a bad pain in this lower back. I had a gap in- between appointments, so I received him immediately. He told me his story: when the pain began to bother him, he went to see a neurologist; after the examination, the doctor determined that the pain was caused by a pinched nerve and so he tried to free it. However, it brought no relief, only aggravation, and the man was admitted to a hospital where he stayed for two weeks undergoing physiotherapy and receiving injections. The pain receded but didn't go away completely. This is when he remembered me. I rubbed my oil mixture on his back and legs and gave him a session. Next day, at noon, we talked on the phone and he said he felt fine and wouldn't come to my studio, but instead would send his mother-in-law who had problems with her knees and had to make a great effort just to walk up the stairs to her 3-floor apartment. The woman came and received her first session. She said she had a tingling sensation in her knees where the pain was. She had three more sessions and after that never had any difficulty walking upstairs!
* * *
At Elena Balkans I also met people who worked at the Free University of Burgas. One of them was bothered for quite a while by problems with his neck. I offered him a session and he agreed. During the session he had convulsions. I've happened to observe this dramatic side-effect during other sessions and with other people. That is why I always tell all of my colleagues and students to do cleansing before and after sessions and also to put protection on themselves. So, we concluded the session. The man couldn't believe it: the pain was gone and he could freely move his neck!
I was invited to work in Burgas; I was also offered a classroom at the University to teaching classes on Qi Gong – the practice I had learned from Master Nico in the USA, a few months before I returned to Bulgaria. I refused because I had lots of open cases in Sliven and I had to bring them to a conclusion. One of these cases was an autistic 5-year-old girl. The first month of working with her we met twice a week, then we continued with one session a week, and later – one session a month. The girl's mother and aunts noticed a change in her reactions and behavior. Unfortunately, the mother didn't agree to let her receive distant treatment, and as a consequence, I lost connection with them after I had moved to Burgas.
* * *
This is how I made the decision to move to Burgas: I met a certain lady at Uncle Ivan's. After prolonged and unsuccessful cancer treatments, she had sought his help; he referred her to me, and I gave her a session. Immediately she felt some improvement. She introduced me to the owner of the Burgas Body Center, on the condition that if we come to some agreement, I will work there. I replied that I had to give it some thought and also there were cases I had to finish. I was already familiar with Dr. Kale's Omni system; even more, I had been initiated into it by Ekaterina Stoyanova, the President of the Bulgarian Reiki Center in Sofia. Besides, I had received initiation in Dr. Kale's other healing system – Omni Sutra – during his visit to Sofia. I knew that Dr. Kale would come to Bulgaria again, this time visiting Burgas. On the day when I went to Burgas to receive initiation in the third Omni system – Omni Sai Sutra – I met Ms. Nadezhda Zheleva. She invited me to the Body Center where I felt immersed into a very pleasant atmosphere. I was impressed by the cleanness of the premises, which, unfortunately, has become the exception in Bulgaria! We talked for a while and I sensed that my energy level needed some corrections, so I offered her a session, choosing Omni Sai Sutra. That day she offered me a job at her center. We agreed I would think it over and give her my final decision. In the meantime I was going between Sliven and Burgas, working a few days here and a few days there. On my first workday at the Center my schedule was tight: I worked from 9 a.m. to 7 p.m. with very short breaks: an Omni Sai Sutra session lasts about 15 min., but after that a healer needs to relax a bit. By the end of the day everybody asked me where I was drawing strength and energy to stand upright and even smile. I explained that in my work I do not use my own energy…
This was the beginning of my life and work in Burgas. I am sincerely grateful to Ms. Nadezhda Zheleva and to my colleagues Zhana Stoyanova and Vanina Mikhaylova for their trust and confidence in me. And many thanks to all the people who came to me at the Body Center! You made me fall in love with Burgas and its people; I have lived many great days here, and there are many more coming. Thank you!
* * *
Here are two episodes from my own personal experience: One evening, after a heavy meal of fried meat and absinthe, my body protested violently against such abuse. I had an intestinal hemorrhage. At 3 a.m., I vomited a copious amount of blood. I went back to bed and tried to fall asleep, but couldn't, and 2 hours later I felt sick again. I got out of bed, and with all my strength got just 3 meters towards the bathroom; after that I collapsed on the floor, unconscious. I don't know how long I stayed this way; when I came round, I dragged myself to the sink and placed my head under running cold water. It cleared my mind and helped me realize that I was indeed in very serious trouble. I was taken to the emergency room; while there on the drip, I vomited blood again. A few hours later, I was transferred to the Intensive Care Unit. My cousin came to see me there; she has worked as a nurse at the Neurosurgical Department for over 23 years. I saw concern and great worry in her eyes. I know her reactions well; the last time she visited me in a hospital was when I was bitten by a viper. She was worried then, but not as much as now. I was subjected to tests, including the ultrasound examination. Nothing was found. I was told to stay in bed for 5 days, with an unambiguous prohibition of standing up. In the evening, the man on the bed next to mine – an elderly man – passed away. The nurses did all in their power to ensure that other patients would not notice what had just transpired and acted as if they were just transferring him to another ward. The next day I gave myself a session with Anugraha. My cousin came again to see me and said that I would stay here in bed for at least one week and after that a month on sick leave. I got in touch with Ms. Nadezhda Zheleva, who by then had been my student for quite a while: she had already received Reiki 2 and trained in Buddha medicine – a powerful Tibetan energy system, applied exclusively for health problems. I asked her to give me a Buddha medicine session. The next day I again gave myself Anuragha and she gave me Buddha medicine. I felt strong and energized. In the evening I got out of bed; I still was a bit woozy, but I knew that the next morning I will feel better. I told the doctor that in the morning I would be ready for release, and he laughed and replied, "No chance! In any case, we'll see what the test results will show." The test results revealed I was in perfect condition and I was released from the hospital. Next week I showed up for a check-up and x-ray. The x-ray did not show any deviation from the norm. Here again I would like to express my appreciation, respect, admiration, and gratitude to Ms. Nadezhda Zheleva for her help. I wish her to be healthy and strength and lighting with her radiance the Path she walks on! I am grateful to her for the rest of my life! May God be with you, Nadi! You are the person who can bring comfort to all who need it, those in Burgas, and everyone around the country!
* * *
The second episode dates back to May 13, 2012.
Approximately 3 and a half hours after playing volleyball at the beach, I noticed that the ring finger on my left hand was bent and I couldn't straighten it however much I tried. I knew it wasn't broken, and the cause must have been something else. The doctor examined it and said that a surgical procedure was needed in order to fix a torn tendon; then he added that he could not guarantee a successful outcome. Therefore I refused to undergo surgery and preferred to leave my finger as it was, that is contracted. I continued doing my work giving massages and sessions, without having the finger immobilized. I forgot all about it. Once, about a month later, I glanced at my left hand and was really amazed: the finger was straight! I moved it left to right, up and down, and it functioned beautifully!
I have to add to all of the above: since the day I was released from the hospital, I worked steadily and was never on sick leave. On the very day of my release, I gave three massage sessions.
Chris Denev, Omni Healer